PlayOJO Player Won £1,000,000 on Pragmatic Play's Wolf Gold Scratchcard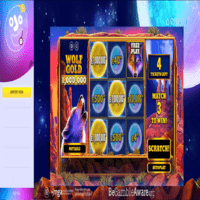 Who says scratchcards cannot give life-changing wins? The PlayOJO player who won £1,000,000 playing Pragmatic Play's Wolf Gold scratchcard certainly doesn't!
The player won the top payout amount available on the scratchcard playing at SkillOnNet's most popular brand PlayOJO and became the first UK PlayOJO millionaire of 2020.
£1,000,000 Won on Pragmatic Play's Wolf Gold at PlayOJO
Pragmatic Play's Wolf Gold scratchcard has created the first PlayOJO millionaire for 2020. A woman from Blackpool, England played the Wolf Gold-themed scratchcard and won the maximum payout amount the game offers, scooping the life-changing £1,000,000 prize at SkillOnNet's brand. The winner, an NHS employee, already claimed the remarkable win, since she won it on the 1st of June 2020.
This win marked one of the largest wins a Pragmatic Play scratchcard has ever rewarded. For those of you who haven't played it, Wolf Gold scratchcard is inspired by the player-favourite slot Wolf Gold, which finds itself among the online gambling industry's most popular and commercially successful video slots, that continues proving to be the most recognizable slot with Pragmatic Play's operator partners.
Wolf Gold scratchcard is actually pretty simple to play. When you load it, you need to choose how many games you want to play, 1, 5, 10, 25 or 50. After that, you're instantly presented with the scratchcard. By simple moves with your mouse or touchpad, you are virtually "scratching" the nine fields on the screen. Should you match at least 3 identical symbols, found anywhere on the screen, you will win a prize. There are 10 tiers of prizes. The prizes go like this: tier 10 free play, tier 9 $4, tier 8 $12, tier 7, $40, tier 6 $100, tier 5 $500, tier 4 $1,000, tier 3 $10,000, tier 2 $100,000 and tier 1 $1,000,000. The lucky lady from Blackpool managed to hit tier 1 and take home $1 million!
Statements by Pragmatic Play and SkillOnNet
Pragmatic Play's CCO Melissa Summerfield said that they were extremely happy knowing that one of their scratchcards delivered such a notable win to a player with an operator Pragmatic Play has a wonderful partnership with.
Summerfield continued saying that SkillOnNet's brands have been offering Pragmatic Play's products for a while now, and they couldn't be more thrilled to see how well these products performed with their
players. Breaking down such a win on a scratchcard was a truly remarkable event, Summerfield finally said, so they were all sending their warmest congratulations to the winner.
SkillOnNet's Sales and Marketing Director Michael Golembo said that seeing their players win such life-changing amounts of money was satisfying and rewarding. Golembo said they were looking forward to announcing similar wins in the future, especially with any new products that come from Pragmatic Play. The developer's sophisticated mathematical structure and complex paytable, Golembo continued, always brought forward a wide-ranging collection of prizes. Finally, he finished his statement saying that everyone at SkillOnNet and PlayOJO extended their congratulations and best thoughts to the lucky winner.