Yggdrasil's 2 Gods: Zeus vs Thor Finally Launched Network-Wide and About to Rock Your World!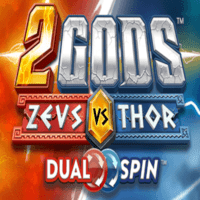 Are you ready to see the two almighty gods Zeus and Thor engage in the ultimate battle? Well, brace yourself because Yggdrasil's newest slot 2 Gods: Zeus vs Thor will provide you with a slot playing experience like you've never had before.
Developed in collaboration with 4ThePlayer, 2 Gods: Zeus vs Thor is the newest slot to be added to Yggdrasil's YG Masters portfolio. And while it had an early release with GVC, the limited exclusive launch proved successful, so as of the 15th of September, the slot is available across the entire Yggdrasil network.
Yggdrasil and 4ThePlayer Create the Ultimate Slot, 2 Gods: Zeus vs Thor
Yggdrasil, the world's leading online gambling software developer and solutions provider, has released 2 Gods: Zeus vs Thor, a 5-reel slot created in collaboration with 4ThePlayer. The slot is the latest product in the YG Master programme and has already been exclusively released with GVC. As of the 15th of September, this electrifying slot is available network-wide, across all of Yggdrasil's operator partners.
Why is the slot so exciting? Well, for many reasons. The star feature in the slot is the Dual Spin action. The slot features two Spin buttons, one for each God, the Red and the Blue, and creates opportunities for you to grab doubled wins. Your win is doubled if the winning spin matches the reel.
The second reason why this slot is so electrifying is that it offers an increasing Multiplier in the Free Spins. You trigger the Win Spins with three Scatters. Each Win Spin, as implied by the name, is a spin where you win. Guess correctly who wins, Zeus or Thor, and your Multiplier will increase. The Win Spins are re-triggerable, therefore, a massive payout potential is at stakes.
On top of that, this new slot also comes with Big Reel Portrait mode. Mobile players will have a blast playing it on their preferred devices, as the reels can stack on top of one another, delivering payouts from top to bottom and from bottom to top, unlike traditional horizontal mechanics.
Statements by the Creators
The Founder and Business Development Director at 4ThePlayer, Chris Ash, said that everyone at the studio was very thrilled with the exclusive and limited performance of 2 Gods: Zeus vs Thor with GVC, and was excited for it to be released network-wide. He explained that the latest slot added in the YG
Masters programme in partnership with Yggdrasil was something they were all taking pride in since it further highlighted how imperative partnerships were in the online gambling industry.
Head of Partner Strategy and Sourcing at Yggdrasil, Stuart McCarthy, praised 4ThePlayer for the remarkable job in terms of innovation, adding that it was in its core, and said that 2 Gods: Zeus vs Thor was another yet incredible addition to YG Masters portfolio. McCarthy explained that Dual Spin was also another exciting addition to Yggdrasil's offering since it managed to immerse players in the action like never before. McCarthy closed his statement saying that the YG Masters programme continued thriving thanks to partners like 4ThePlayer, so they were all excited to have released this new slot across all operator partners, looking forward to the results.